Some Custom Boards
Custom Charcuterie Boards
CUSTOM, CONVENIENT, AND SOPHISTICATED CHARCUTERIE BOARDS
We know you have a range of options when it comes to choosing someone to cater your special events. That's why, at Board and Bread, we make it our top priority to create charcuterie boards and food platters unlike any other. Created by a mother, wife, and fellow foodie, each of Board and Bread's charcuterie boards are carefully arranged with love and care. If you need a charcuterie board, food platter, or event catering, reach out to Board and Bread in Prosper today! We will work with you to determine the best type of board for your needs.
BEAUTIFUL, MEMORABLE APPETIZERS FOR YOUR GUESTS
What Makes Board and Bread the Best Charcuterie Boards in the Prosper Area?
We are a local company that serves the Prosper community and surrounding areas

Board and Bread was created with love and hope in mind

We aim to not only create beautiful boards and food platters, but we strive to uplift each of our customers

We will work directly with you to determine your desires and create a charcuterie board that meets each of your needs

We offer a variety of shapes, sizes, and types of boards for every type of event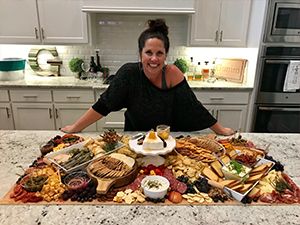 THE BEST CHARCUTERIE BOARDS IN PROSPER
Board and Bread was created with the idea of taking care of yourself in mind. After the tragic passing of her mother, Katie decided that she needed an outlet to help her grieve and take time for herself. It just so happened that she found solace in creating things for others, with the goal of making them feel important. After realizing that her boards uplifted others, she created Board and Bread, which continues to grow today.
Board and Bread is more than just a catering business that creates food platters for special events — it is a business built upon the foundation of love, hope, and making others feel valued. When you work with us, you can guarantee that we will work closely with you to meet every one of your needs.
For any questions, concerns, or ideas you may have about food platters, wedding catering, charcuterie boards, or other needs, reach out to Board and Bread. We look forward to working with you and creating something that will be memorable for you and your guests. View our boards page for more information about our board selections, or reach out to us to discuss our custom options.
REQUEST A CONSULTATION
Get in touch with us so we can start planning your big day charcuterie board catering today!