Charcuterie Board Styling Workshops
Learn How to Create Your Very Own Charcuterie Board for Any Event With Board and Bread
Contact Us Today!
Everything You Need to Create Showstopping, Delicious Charcuterie Boards
Charcuterie boards are tasty, beautiful, and perfect for any gathering or occasion. Filled with a variety of meats, cheeses, and other delicious fixings, these boards can be customized to your liking. Whether you're looking to impress at your next get together or create the ideal snack to enjoy with your family, meat and cheese boards are the perfect solution. With workshops from Board and Bread, you can now learn to create and style your very own board time and time again! We offer two different types of workshops to help you perfect your charcuterie creation skills. Contact Board and Bread today to learn more or sign up today.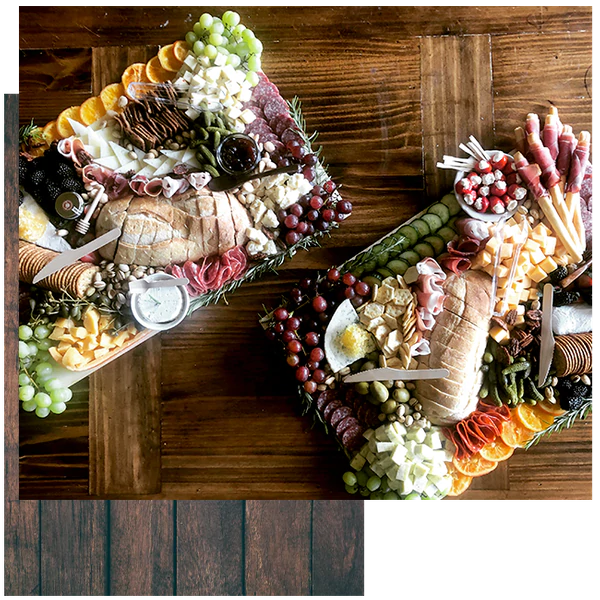 Why Join a Board and Bread Charcuterie Workshop?
Perfect existing skills or learn how to create boards from scratch Learn which types of meats and cheeses go best with each other Enjoy delicious meats and cheeses while you create your board Gain a new skill that you can use to impress at your next party Enjoy a night out with friends, family, or coworkers
At Board and Bread, we offer charcuterie board workshops so you can enjoy a night out with friends, family, coworkers, or other groups while you learn to create beautiful and delicious boards! Our team will work with you to teach you what to add to each board for the perfect pairings, as well as how to lay each board out for the most eye-catching presentation.
We offer several different types of workshops, Private/ In-Person (Make & Take or Demo-Only), Virtual, and Public. Read below to learn more and contact us with any questions or to sign up for one of our workshops today!
Our charcuterie board styling workshops make for a great team-building activity, girls night, or date night, and can be customized to fit your needs. Whatever you are interested in, don't hesitate to ask! We enjoy thinking outside the box and being creative in every way to make our charcuterie styling workshop fit your needs.
Workshop FAQ's
Please note that the workshop host will be responsible for finding a location and attendees.
CHARCUTERIE BOARD STYLING WORKSHOPS
Our knowledgeable and friendly team is excited to teach you about the world of charcuterie creation. Never again will you have to wonder how delectable charcuterie boards are made. With your newfound skills, you can create beautiful charcuterie boards again and again. Enjoy the process and learn the skills you need to create the ultimate charcuterie board for any event under the guidance of our experienced professionals. We are excited to work with you and share our love of charcuterie. Contact us in Prosper today to schedule your charcuterie workshop!