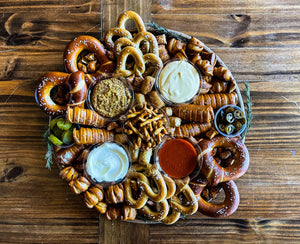 Pretzel Platter
Regular price $120.00 Sale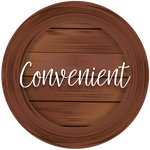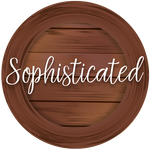 Introducing our Pretzel Platter, a tantalizing journey into the world of twisted delights. This curated assortment brings together an array of pretzel varieties, each with its unique twist, perfectly complemented by a selection of delectable dips. Dive into the satisfying crunch and irresistible flavors of soft, Bavarian-style pretzels, savory pretzel bites, and crispy pretzel rods, all expertly baked to golden perfection.
But the adventure doesn't stop there. Our dips take this platter to the next level. From velvety beer cheese and stoneground mustard to sweet cream cheese icing or chocolate,  every dip is a flavor revelation that pairs flawlessly with the pretzels.
This Pretzel Platter is the ultimate crowd-pleaser, ideal for gatherings, parties, or indulgent snacking sessions. Perfectly salty, wonderfully doughy, and irresistibly dippable, it's a taste experience you won't want to miss. Elevate your pretzel game and savor the salty-sweet symphony of flavors that awaits on our Pretzel Platter. Order yours today and get ready to twist and dip your way to snack heaven!